"PST Extractor Pro" Brings the Features That You Asked For – Now Export PST to Apple Mail with Ease and Efficiency. It's the tool that has quickly gained traction amongst all kinds of users, both professionals and beginners. Becauseof its advanced algorithms and intuitive UI.
There are few PST to Apple Mail export tools that you can try. A few of them offer a decent support of features but not any of them offer the complete package necessary for accurate data export.
Way to Export PST to Apple Mail
PST to Apple Mail export is a complicated process. Not only does it involve two very different email clients and data files, but also two very dissimilar operating systems. PST is a file for Windows Outlook which is not compatible with Mac Mail, which is an OS X email client. Clearly, the extraction process of data becomes complex.
A lot of necessary features are missing from most of the PST to Apple Mail extraction tools. These are the features that many people who regular migrate email data have been asking for since ages.
Well, now you can convert your PST files to Mac Mail format without any worries, because you have got what you have asked for.
Export PST to Apple Mail, Address Book, Calendar (iCal)
"PST Extractor Pro" from USL Software brings to you all those features (like splitting large PST files, converting contacts and calendar, manually removing folders, automatically removing empty folders, and so on) that will make this otherwise challenging task effortless. Not just that, but USL Software also amped the algorithms that extract the information, so you will not face any loss of information or the unwanted modification in any of the details.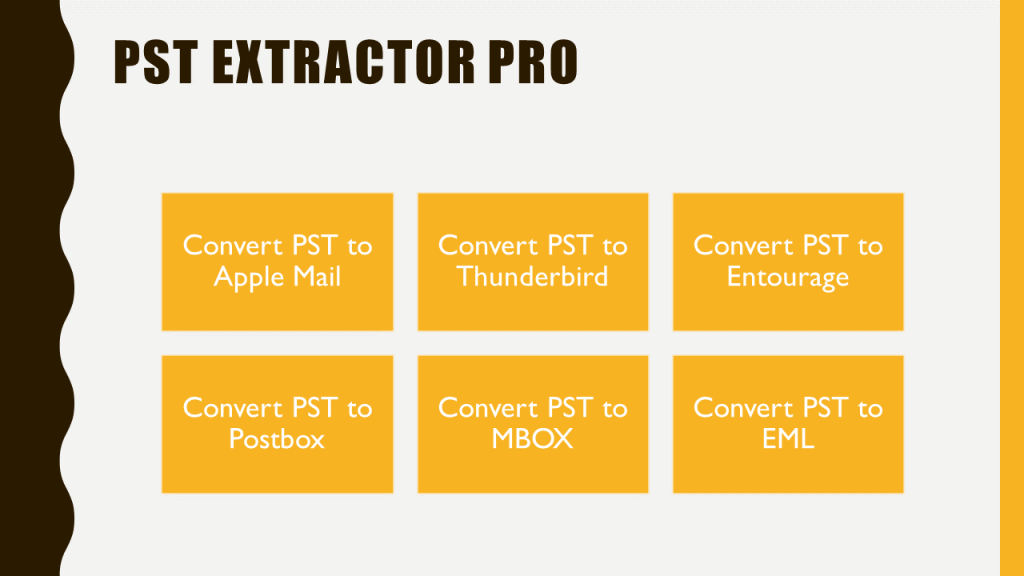 Here is a list of the features you wish you had in PST to Apple Mail converter but never really got in any tools, until now:
Key Features
It allows batch conversion: so, you can now select all PTS files you want to convert in one attempt.
The manual folder selection allows you to remove any specific folders you don't want to convert. Gone are the days of forcefully converting the entire database inside the files.
At the end of conversion, the tool presents to you a detailed and a brief conversion log. Much helpful to advanced users.
It can also convert PST to MBOX, EML, and RGE files, also including Entourage, Postbox, and Thunderbird.
'PST Extractor Pro' automatically converts contacts and calendar respectively to VCF and ICS files.
Not just that, but it also allows you to convert and merge all contacts from a single folder to a single VCF file and all calendar from a single folder to a single ICS file.
You can also choose to save read/unread emails in two separate folders
You can also split large MBOX files into smaller files. Just pick the limit of size you want for output files.
The 24 x 7 tech support of USL Software is responsive and friendly. If you have any questions or problems, get in touch with them.
But the best of all is its accuracy. Only "PST Extractor Pro" can get every data element from PST files and convert it into Apple Mail (or other output format if you can converting into). Including Unicode text characters, folder hierarchy, images, attachments, and headers.
As you can see, most of the limitations and problems of a generic PST to Apple Mail converter has been solved by "PST Extractor Pro".
Download to Export PST to Apple Mail
Do no delay for another minute. Get the free trial setup today and professionally export PST to Apple Mail.